2022 Early Hearing Detection & Intervention Virtual Conference


March 13 - 15, 2022
Students
EHDI Conference 2022 Student Events
EHDI Student Kick-off Sunday, March 13, 2022 4:30 pm – 6:00 pm MT
Start the EHDI Conference off with a student-centered stakeholder panel discussing "What is EHDI?" and how to make the most of this conference as a student. This panel will feature the following presenters:
Liberty Moore is a first-year graduate student pursuing a Master of Science in Deaf Education at Washington University School of Medicine in St. Louis. Liberty plans to pursue further education towards research in the field of EHDI.


Dr. Julie Rems-Smario, Ed.D works as an Early Language and Education Consultant in California at CORE, California School for the Deaf, a program of State Special Schools and Services at the Department of Education. Julie's work includes working as a co-director of California's Early Hearing Detection and Intervention, training Early Start professionals on how to develop language milestones goals for IFSP/IEP, supervising SB 210 data, developing resources for families of Deaf children, and providing technical assistance to Early Childhood Education professionals. During her free time, she volunteers as one of the Public Relations Director of a national campaign, Language Equality, and Acquisition for Deaf Kids (LEAD-K).


Dr. Amy Szarkowski is a psychologist who brings vast experience working in clinical and educational settings with, and in support of, children who are deaf and/or who have disabilities, as well as their families. Her research interests as they pertain to children who are deaf include: exploring the role of pragmatics, understanding and supporting families raising deaf children, developing and implementing effective early intervention, and fostering social and emotional functioning. Dr. Szarkowski is motivated by "fostering joy" and helping families and professionals to emphasize the joy in their respective journeys.
Student Lunch/Social Monday, March 14, 2022 10:30 am – 12:00 pm MT
Enjoy a virtual break from the conference with EHDI or casual conversation surrounded by fellow students!
Student Lunch Conversation Cards
Food for Thought: Student-Professional Networking Breakfast Tuesday, March 15, 2022 7:15 am – 8:20 am MT
Hear about the days of four professionals within the realm of EHDI and the unique perspectives, work, and service they provide. After, have the chance to network in private breakout rooms with professionals and peers all while over your breakfast!
Connect with us on social media!
Instagram: https://www.instagram.com/studentsofehdi/
Twitter: https://twitter.com/studentsofehdi
LinkedIn: https://www.linkedin.com/groups/9153225/
Which fields are included in EHDI?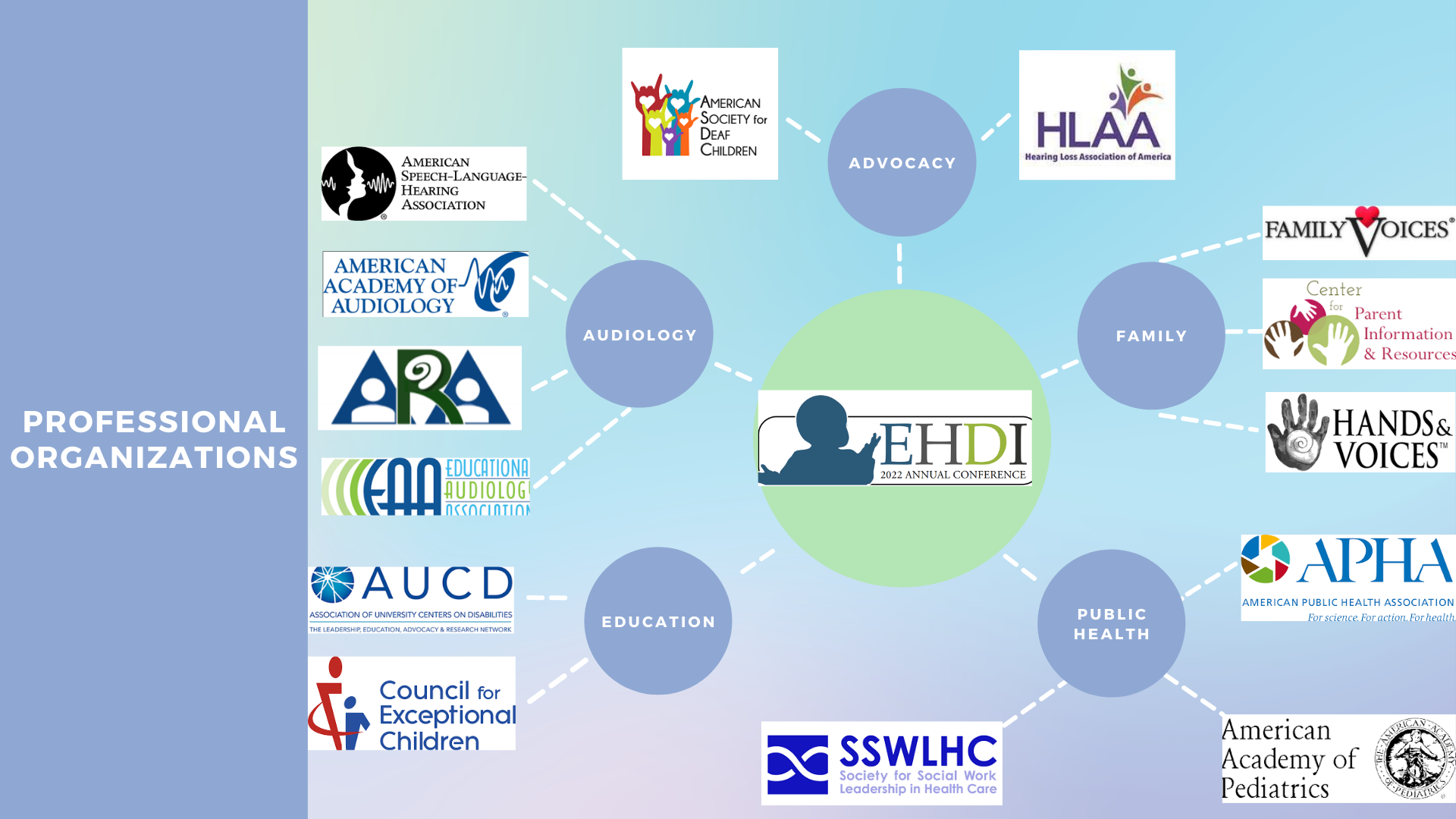 Learn from Hands&Voices about their critical involvement in the EHDI system and the role of students!
2022 Student Planning Committee:
Chair: Torri Ann Woodruff, M.S., University of Connecticut, Department of Speech, Language and Hearing Sciences, torri.woodruff@uconn.edu
Lauren Freeny, BS, Audiology, Washington University in St. Louis, f.lauren@wustl.edu
Liberty Moore, BA, Deaf Education, Washington University in St. Louis, l.e.moore@wustl.edu
Lauren Trautner, BS, Audiology, University of Wisconsin-Madison, leoneil@wisc.edu
Edith Dong, BS, Audiology, Gallaudet University, edith.dong@gallaudet.edu
Alexandra McCormick, B.S, Audiology, UNC-Chapel Hill, alexandra_mccormick@med.unc.edu
EHDI Planning Committee Liaison: Delphanie Wu, AuD; Children's Hospital of Philadelphia; wud1@chop.edu